Fiji Golf: Tee Time in Tropical Paradise
Last week we talked about the national sport of Fiji and this week the spotlight is on golfing in Fiji. If you ask us, there isn't anything like teeing off overlooking the beautiful waters of Fiji! The famous golf player Vijay Singh grew up in Lautoka, Fiji playing golf. Besides winning three majors, PGA Tour Rookie of the Year in 1993, being inducted into the World Golf Hall of Fame in 2006 and more, he currently holds the title for the most wins after the age of 40.
If you happen to be a golf lover, there are several championship golf courses in Fiji; all of which are located on the main island of Viti Levu. Here's a look at some of the top 18-hole golf courses in Fiji.
Natadola Bay Championship Golf Course
Perhaps the most gorgeous golf course in Fiji is Natadola Bay Championship Golf Course. It is located on Fiji's coral coast, just next to the Intercontinental Fiji. Fifteen out of the 18 holes actually look out at the ocean. The 18-hole, par 72 course is 7,180 yards and has five tee positions on each hole. This golf course is truly one to experience for any level (and even for those that don't golf since the views are so stunning).
The course opened in 2009 and was officially opened for the Fijian Open. The course has since hosted the 2010 Fiji Open, the 2011 Nomura Cup, and the 2012 Natadola Bay Fiji Classic. It also hosts Fiji's very own Fiji International Tournament, a co- sanctioned PGA Tour of Australasia and OneAsia tournament. This year in 2016, professional golfers from all over the world will come to Natadola Bay course from October 6-9. Be sure to watch on TV if you can't be there!
The course facilities include a golf shop, a practice fairway including target, practice and chipping greens and a bar and restaurant overlooking the course and ocean. The Natadola Bay clubhouse and Vatulo Bar sit at the top of a hill and showcase some breathtaking views of the course, ocean (even the coral reefs and surf breaks) and mountains. The restaurant serves traditional Fijian food and innovative recipes from the open kitchen. You'll be sure to get the freshest produce and ingredients. Definitely not a spot to miss!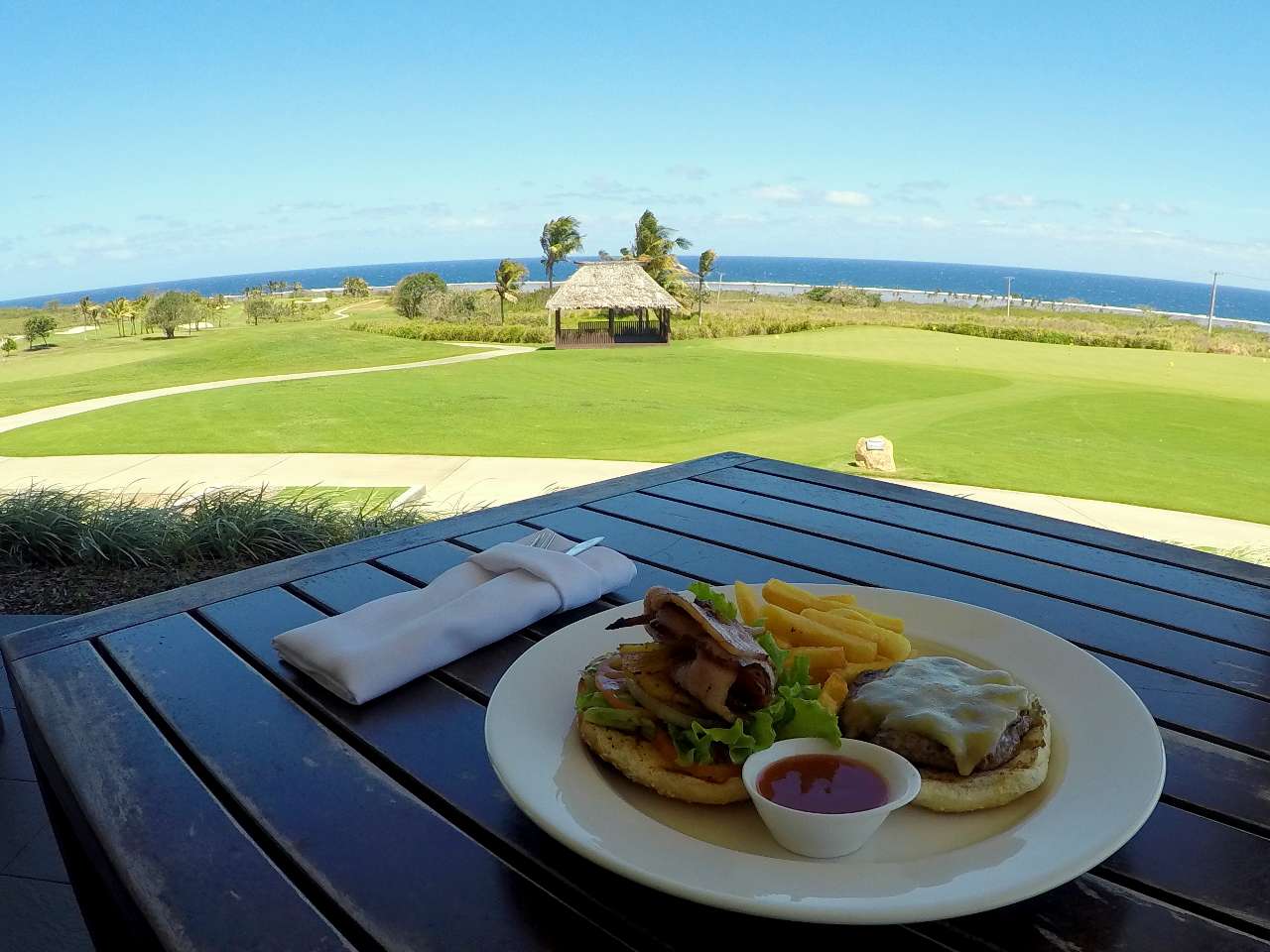 Denarau Golf and Racquet Club
This 18-hole golf course designed by Eiichi Motobashi features a unique theme of the South Pacific with bunkers in the shape of marine creatures! The course has some great views and offers international standard professional instruction. With a par of 72, the 7,150-yard course can accommodate all levels of golfers.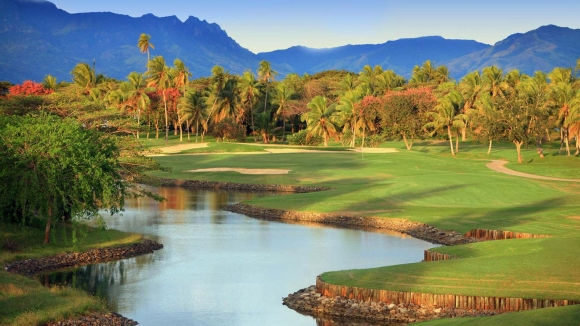 Before or after the game, the golf course offers a great restaurant, Fiji Premium Club House, which has curry dishes, wood-fired pizza, burgers, and salads. The sports lounge serves Fiji Premium, Fiji Bitter, and Fiji Gold on tap and has a large wine selection. The bar has a great view and has a bunch of televisions and even a large screen outside for big games.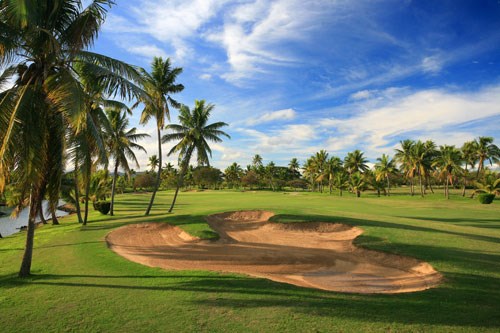 Denarau Golf and Racquet Club is located within walking distance of the Sheraton Resort Fiji, Sheraton Denarau Villas and the Westin Denarau Island Resort & Spa, on Denarau Island.
The Pearl Championship Golf & Country Club
The 18-hole, par-72 Championship Golf Course designed by Robert "Bobby" Trent Jones Jr. is situated amongst tropical rainforest and winding canals. The course opened in 1978 and has been the course for several prestigious Fiji golf tournaments.
In the 6,873-yard course, the golfer will face deep bunkers, adjacent rivers, and some pretty lily ponds! There are water hazards on 12 of the holes to test the golf skills. The renovated club house has a pro-shop, locker room, car park, bar, restaurant and swimming pool to keep golfers occupied before and after the game.
The golf course is located next to the the Pearl Resort, in Pacific Harbour on Fiji's main island.
Fiji Golf Club in Suva
Fiji Golf Club is located in a Suva suburb and built in 1908. The public golf club spans 41-acres but it's a close ride if you are staying in downtown Suva. The club sits in front of the ocean at Vatuwaqa and you'll see this beautiful ocean view the first nine holes. The second nine holes face residential areas.
Fiji Golf Club offers the club house with a bar, pro-shop, billiard table, a kitchen and plenty of areas to sit and relax. This golf club is a great place to meet the locals as many in Suva frequent this course.
There are other smaller public golf courses in addition to those that we mentioned, including one on Vanua Levu and Taveuni. You can also find some luxury hotels hotels with their own private golf courses. Some that have their own course include Shangri-La Fijian Resort, Naviti Resort, Wakaya Island, and Naigani Resort.
Bottom line: If you are a golfer, golfing in gorgeous Fiji is a must!